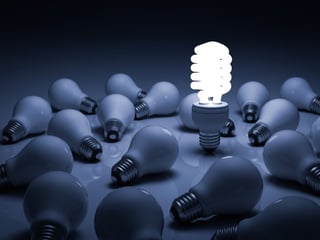 A digital marketing agency owner could not be in existence today without coming across that all-too-fa
miliar phrase: "content is king." In the modern digital world, there is an unlimited amount of space for content to exist and therefore, there is an unlimited amount of space to now market your business.


Nevertheless, with a changing landscape comes new marketing practices, as search engines like Google are now utilizing web crawlers or "spiders" to sift through the endless supply of content and provide their users with the best quality search results. This means that rather than simply pumping out a ceaseless stream of social media and blog posts in hopes of gaining your audience's attention, you need to leverage your content to show that you are the expert; a thought leader in your industry.
The benefit of positioning yourself as a thought leader is that it drives people to your business and bumps you higher up on search engine results. The difficult task for any marketing agency then is to figure out a way to convince potential buyers - through your content - that you are a thought leader in your particular industry. You understand that your services work and can help your client's business reach its fullest marketing potential, and it's up to you to convince them of that.
Start with what they want
One of the first steps in your thought leadership strategy should be understanding not only what kinds of services your potential clients are looking for, but also how they look for it. Make sure that when you create content for your agency, you are focusing on the keywords and phrases that your buyer personas use to find these answers. A good way to do this is by understanding your current clients and how they interact with search engines to find what they are looking for.
As an agency owner looking to leverage your content, ask yourself the following questions:
How much do my current clients understand my industry?
What kind of services do my clients search for, and how do they search for them?
What pain points do my current clients experience? How do I solve them?
If you can answer questions like these, then you are better able to create content that speaks your audience's language and pulls them toward your business. However, it's not enough to simply have those great keywords in your content that people are looking for. A true thought leader is able to provide value for initial inquiries, while also providing new information for the questions their audience may not have thought to ask but keep them intrigued.
This may seem counterproductive to practically give your expertise away, but what it's really doing is setting you apart from the others by providing greater insight. Be an educator and show that you have more to offer. Create interest in your industry, and more importantly, your agency and its capabilities!
Research Your Content
Thought leaders don't just create ideas out of thin air - they do their research. Once you have a good idea of what content your potential clients would find insightful and compelling, it's time to do some research on the most current information on those topics. Ensure that you have a scheduled and consistent research strategy for new and upcoming trends in the marketing world.
Try to keep a consistent inbound stream of the latest industry topics to reduce the energy and time that you put into your research. An easy way to do this is to follow the blogs of other thought leaders and subscribe to online articles on the topics. This will give you the chance to leverage the most up to date information for your own content, tailoring it specifically to your audience and providing even further insight into that topic. Remember that no one piece of content perfectly encapsulates an idea, and there is always more room for improvement.
Consider implementing content creation strategies like the skyscraper technique to leverage the content of other thought leaders and apply it to your own content strategy. You don't have to reinvent the wheel to capture people's attention, just show you know how to use and improve it!
Another great benefit of subscribing to industry blogs is that it associates yourself with other thought leaders. Something important to consider about people is that they often understand others by their behaviors, interests, and associates, and will make judgments based on those factors.
In the same way that you would look "smart" in a bookstore if people saw you holding a book on astrophysics, potential clients will see that you are caught up on the new trends when you share this information, even if you haven't created it yourself.
Besides impressing your audience and other thought leaders, following and sharing remarkable content can improve how search engines rank you on the results page, bumping you higher up on the scale. Search engine web crawlers, wanting to offer the best results for their users, give preference to posts that link to other high ranked content, as it shows the creator has done their research on the topic and is more likely to offer search engine users the results they are looking for.
Ultimately, you want to position yourself as a thought leader because search engines and potential clients are looking for the best of the best.
The greatest way to do that is to reach out; to your audience, to search engines, and to other thought leaders and industry professionals.
Founded in 1995, WSI is today a digital marketing industry leader that's proud to offer you solutions to help take your business to the next level. Find out a little more about us by downloading our Agency Accelerator Program.