Today we would like you to learn more about what make Trinda Tresham tick. As a Regional Vice President at WSI, Trinda and her team help people who are looking to make the transition into business ownership or self employment. Trinda also helps existing businesses like traditional agencies, web developers, printers etc. that are looking to expand their portfolio.
How would you describe yourself?
I have a very outgoing and bubbly personality. I tend to think outside the box and I have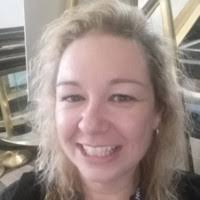 been known to come up with some crazy ideas.
What were you like in highschool?
I was, believe it or not, the shy girl in school. I kept to myself and it just may be possible that I had too many excuses to not attend classes. I just did not feel very inspired back then. Actually, I was one of the girls that wore all black and listened to a lot of heavy metal - at ridiculously loud volumes.
I dropped out of school for a year, moved out, then went back to school a year later and graduated with honors!
How long have you been with WSI?
17 years. But, WSI had been my client for 5 years prior to that, so I have been closely involved with the company for 22 years.
What did you do before life at WSI?
As mentioned, WSI had been one of my clients for 5 years. At the time, I worked for a company that did lead generation. We would call companies and book appointments for franchisees to go in and sell websites.
Why did you join WSI?
In the years prior to joining, I was exposed to the company as a client. I knew nothing about technology, but I found it very intriguing. I wanted to join a business that I knew would be around for a while and that had opportunities for growth in store for me. And, I really liked the people and it seemed like a good place to work.
What was your journey like to get where you are today?
My journey in my personal life and in my career hadn't been an easy one. I can honestly say I have never had anything handed to me and I have had to work for everything I have today. Growing up, I faced a lot of obstacles. Many people in similar situations didn't have the same fortune. I believe my drive, passion, and my general outlook on life have gotten me to where I am today. Once you realize that you control the majority of your future by your own actions, your life begins to change course.
Looking back at 20 years of being involved with WSI, what are some of the highlights that you remember most and why?
There was a huge learning curve involved with moving from selling websites to digital marketing. When I first started working at WSI, businesses didn't even know what digital marketing was - they simply assumed it was a fad.
Over the years, the evolution of digital marketing had been amazing. I also remember WSI's first convention, which only had about 10 franchisees. Today, hundreds of franchisees from all over the world attend. The way digital marketing continues to grow and expand is very inspiring.
What has been your biggest accomplishment at WSI?
Reaching a VP level and having a great team.
Managing and expanding our broker and master networks.
Tell me how you've approached the change that has happened while at WSI?
I embrace change. With change comes new opportunity!
Describe your typical work week?
My week is really about managing relationships with our broker network, working with my team, speaking to people from around the world and really helping someone to realize their dream of owning their own business.
What's your favorite quote?
"When obstacles arise, change your direction to reach your goal," - Zig Ziglar (I have this tattooed on my back.)
Do you have any skills or talents that most people don't know about?
I played saxophone for years when I was younger, and I am starting lessons to get back into it in the next few months. I can also talk like Donald Duck☺!
What types of holidays do you like to take?
Holidays in very warm places or random road trips. Once, I took 10 days off from work - with no plans. We got in a car and drove to PEI without booking any accommodation. It was the best road trip - ever!
What do you like doing in your spare time?
Hanging with my two dogs, a pair of rough collies. I also love spending time with my daughter and friends. I go to the gym often and I am training for my next 5 km race.
Could you tell us about an average day in your life?
My day tends to start very early as my morning drive in is about 90 min. I visit the company gym before heading to work, where I spend the bulk of my day educating people on the WSI business. I help people decide whether WSI is a business that is going to help them achieve their personal and professional goals.
My day ends with the long drive home, preparing dinner and lunch for the next day, and usually ends with walking the dogs and Netflix.
What do you think are the best skills that you bring to WSI?
I am a very loyal person, I always put forward my best efforts, and I really care about the people I speak with and work with every day. I am always looking for ways to improve processes, systems, and efficiencies.
How would someone get your special attention?
I love a challenge, good food, and adventure.
Have you read any good books lately?
I recently read a book called Eating, Drinking, Overthinking. As part of my personal weight loss journey, I have been trying to educate myself better on the science of food and people's eating habits. Over the last two years, I have lost 200 pounds. Currently, the books I read are more centered around understanding food and how the body works.
On a scale of one to ten, how weird are you?
A solid seven.
How would you describe yourself in one word?
Unique.
What goals do you have for yourself that you'd like to accomplish in the next year?
I want to drop my last 50 pounds. And then, jump out of a plane. I also want to do a minimum of four 5 km runs and work my way up to do a half marathon.
Where do you see yourself in 5 years time?
50 pounds lighter, working with a larger team at the office, and maybe working remotely from the east coast.
How has technology changed the way you work?
It has really made things more efficient. It helps to find things quicker and easier. It is amazing how much things like cell phones have changed the way we do everything from order food and set appointments to navigate to where we need to be.
I believe technology allows us to be and do much more as individuals. Society as a whole is much more educated and knowledgeable about different cultures and world events, history, and nutrition. Technology has opened our minds to a whole new possibility and I, personally, am excited to see what is next.
What would be your personal motto?
There is no such thing as luck - life is what you make it.
If you worked at a restaurant, what role would you want?
Taste tester.
If we went to happy hour, what would you order?
Tequila!
If you could be anywhere other than here, right this minute, where would you be?
In a warm country, with a cold drink and lots of friends.