Here's a great story of how to climb the corporate ladder. Cheryl, a hard-working mother of two boys, shares her career journey of the past 15 years with WSI. Find out more about Cheryl's contribution to helping WSI win 85 WMA WebAwards and authoring the email marketing chapter of the Digital Minds book. She also shares her favourite place to go to relax in this interesting interview.
How would you describe yourself?
Hard-working, passionate, genuine, and dedicated.
What were you like in high school?
My mom was the guidance counsellor at my high school so I guess that made me want to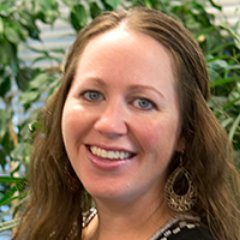 always be on my best behaviour. I was an good student and very involved in the extracurricular activities. I have always been someone that likes to get involved with things and in high school, I was the person that played multiple sports (hockey, field hockey, volleyball), participated in choir and was involved with the prom committee. I even won an award at graduation for being one of the most involved students in our graduating class. I grew up in a small town, so my high school was small in population in comparison to other schools around us (600 students from grade 8 to OAC). Some of my best friends that I have today I met in high school, so for me I always look back on my days at EDHS (Erin District High School) fondly.
How long have you been with WSI?
15 years
What did you do before life at WSI?
I joined WSI pretty much right after university. Right before I joined I was doing ground maintenance at a golf course (cutting greens, setting up the holes etc).
Why did you Join WSI?
As a new grad I was eager to get my professional life started and WSI presented me with the opportunity to do that and start something new for the company (I started WSI's eStore – website where Internet Consultants (ICs) could order their marketing materials and branded promotional items).
What was your journey like to get where you are today?
I'm a little unique in that WSI is the only company I have worked for in my professional career. But I didn't join WSI as the Director of Marketing & Communications, that's something I had to work for and earn. I started off as our eStore Manager and after that began working more with our web properties and site strategies (corporate websites and IC sites). I then became more of a Marketing Generalist and was tackling various marketing projects, and even dabbled in Product Marketing for a little bit. Eventually I became the Marketing Manager and under that role started to head up Communications as well. After coming back from my first maternity leave (in 2012) and publishing our first Digital Minds book, I was promoted to Director of Marketing & Communications, and that is where I am today.
While working at WSI, I have not only grown professionally but personally as well. Since joining I have gotten married and have had two children (both boys).
Looking back at 15 years with WSI –What are some of the highlights you remember most & why?

There are many, and I know I'm likely forgetting a bunch, but here are the ones that come to mind:
Winning multiple WMA WebAwards each year – every year I get a little anxious as the results come in, hoping that we won multiple awards, and each year we do. Now we're at 85 awards in total!

Publishing our two Digital Minds books – both were big projects and have become real brand differentiators
Moving into our new office at 20 Carlson Court – it has this great feel and it's a space we're proud of
Each Global Convention I have attended and travelling to places all around the world – so many great memories with my colleagues as we race to get things done, and also with building relationships with our Consultants as well

Our 20

th

anniversary party – or should I say planning the party. I actually couldn't attend the party because I was in labour with my second child at the time but I heard it was a good celebration :)
What has been your biggest accomplishment at WSI?
Becoming the Director of Marketing & Communications and having a seat at the management table
Winning multiple employee Awards of Excellence
Getting our blog on wsiworld.com started and keeping it updated
Helping WSI win 85 WMA WebAwards
Being a published author for the Email Marketing chapter in our first Digital Minds Book
Helping WSI publish 2 Digital Minds books
Tell me how you've approached the change that has happened while at WSI?
By always having an open mind. Whether I'm asked to take on a new role, new project or a new direction, I find you can adjust to change easier if you remain open to what could come your way and to always look at things from various angles so you don't get caught going the same way all the time.
Describe your typical work week?
Non-stop. Everyone wants a piece of marketing!
We deliver projects for various teams internally within WSI Home Office as well as for various audiences (franchise applicants, our franchisees (Consultants), and our end clients (businesses looking for digital marketing services). At my end, I am in many meetings, either from a management perspective or project perspective. Each day I set myself a goal of what I want to get done and I try my best to get it done, even if that means opening up my computer after the kids are asleep.
What is your favorite quote?
"Nothing worth doing is ever easy." I'm a farm girl and for me, working hard and getting something done is the ultimate satisfaction.
Do you have any skills or talents that most people don't know about?
I played varsity hockey at the University of Windsor and still play hockey every Monday night during the winter.
What type of holidays do you like to take?
Getting away somewhere on the water. Could be the beach, could be a cottage on the lake. I love watching the sunset along the water.
What do you like doing in your spare time?
Honestly, just taking a step back to enjoy life. I am go, go, go at work, so I enjoy having time to relax, either playing with my kids, shopping by myself, sitting on the couch with my husband watching a movie or TV show, or getting together with friends.
Could you tell us about an average day in your life?
My husband leaves for work before we are all out of bed, so I am on drop-off duty in the morning. Which means, I have to get myself and both of my boys ready (and fed), so we are out of the door by 8 am, and I can get to work by 9 am. I like to start my day at work with a coffee and cleaning up my inbox. I'll log in to both of our HubSpot systems (one for wsiworld.com one for wsifranchise.com) to see the latest activity and Workplace to see the latest posts. The rest of my day is split up between meetings, answering emails, and working on various projects (writing or reviewing communications, creating slides for presentations, or working on new marketing materials or campaigns). Once I'm home, it's all about spending as much time with my boys until they have to go to sleep. In the winter, there is usually a hockey game we have to run to, or in the summer we're off to baseball. Once the kids are in bed, if I'm not totally exhausted I'll jump on the treadmill; otherwise my day ends vegging on the couch for a bit.
What do you think are the best skills that you bring to WSI?
My hard-work ethic, creativity, problem-solving skills, passion and determination.
How would someone get your special attention?
By going out of their way to do something nice. I'll definitely remember someone doing me a favour and will be more than willing to pay that back to them when needed.
Have you read any good books lately?
I wish I could say yes to this but I can't seem to find the time to read books at the moment. I do listen to podcasts though, because I can listen to those while I am driving. I just started to listen to this one called ZigZag. It's about two women who left their secure journalist jobs to start their own podcast on technology and specifically the blockchain.
On a scale of one to 10, how weird are you?
I'd say a 6 – I'm mid-weird. Not "who is that crazy person" weird but just weird enough to stay interesting. Though get me around my friends and an outsider may say "who is that crazy person."
☺
How would you describe yourself in one word?
Good question. I don't like to self-describe myself so I decided to text some of my friends and the one word that most of them landed on was "dynamic".
What goal do you have for yourself that you want to accomplish in the next year?
I want to scratch something off my bucket list. I think the next one I want to do is go skydiving. It was something my best friend and I always said we'd do (she passed away a couple years ago) so it's something I want to do in memory of her.
Where do you see yourself in 5 years' time?
I'll likely be going from arena to arena and diamond to diamond cheering my sons on as they play hockey and baseball.
Professionally I still see myself involved in marketing and communications, ideally with a title promotion and of course making more money☺
Separate from family and profession, I see myself building the charity baseball tournament I started with my friend a few years ago into something even much bigger than it is today. In 3 years' time, we have raised over $100K for Cardiac Kids (a group in support of the SickKids foundation). I'd love to be able to say in 5 years that we have increased that to $500K.
What do you hope to achieve in your next position?
I always look forward to taking on a challenge and learning something new. As my experience grows, I look to hone my leadership skills and continue to build my repertoire of marketing knowledge across campaign best practices and technology.
How has technology changed the way you work?
I would say very significantly. As a marketer, the tools we use in our day-to-day helps to streamline our activities and achieve results we couldn't without it. I work at a digital marketing company, I feel like without technology, would my job even exist?
What would be your personal motto?
"Work hard. Play hard". I am a hard worker but I also take the time to enjoy life as well.
If you worked in a restaurant, what role would you want?
Bartender, for sure. You get to make drinks, interact with people, and have a sports game of some sort playing in the background.
If we went to happy hour, what would you order?
Either a pint of Stella or a spicy caesar, extra olives.
If you could be anywhere other than here talking to me - right this minute, where would you be?
Oceanside, Oregon. My husband's family rents this house along the beach (we were just there in early October). It has the most amazing view of the ocean and the most spectacular sunsets. There's something so relaxing about walking along the beach, the waves hitting your feet as you look down trolling for agate rocks.