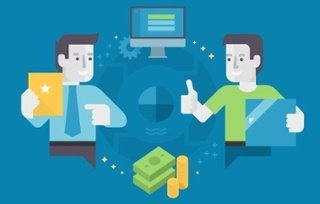 Running a marketing agency while simultaneously working in it can sometimes feel like the Bruce Wayne-Batman paradigm; "you never see the two in the same place at the same time".
Many marketers dream of owning an agency that offers the full package for their clients, but often times get bogged down by client demands and struggle to meet industry standards. That's why agencies often opt for an outsourced marketing strategy, allowing them to focus on their key marketing specialties while another person or agency handles the rest. By doing so, an agency can still offer a full spectrum of services without limiting service quality.
However, making the decision to outsource isn't something that should ever be taken lightly, because it requires you to put your faith in someone else to accomplish a goal according to your high standards, and not everybody is up to that task. When it comes time to outsource your marketing services, you need to find a partner who will complement your own service offerings and allow you to become a 360-degree agency. This means knowing how to find an industry-leading partner with the right knowledge, the right skills, and the right experience to bring your service offering to the next level.
Identifying Your Limitations and Capabilities
Before you can start to address the question of who do I outsource to, you first have to take stock of your agency's abilities and areas where you could use some help from an outside partner.
What's your key to success and what's holding you back?
Digital marketing is an expansive field, and many small marketing firms are forced outsource to other agencies because they simply don't have the resources or experience necessary to properly execute a full spectrum marketing campaign. For instance, if you're a master of web development and social media but only skimmed the surface with pay-per-click ads, it would be worth seeking out a PPC specialist. By analyzing your agency and understanding its strengths AND weaknesses, you can better understand the services to look out for in your outsource partner.
Know What to Look for in Terms of Performance and Returns
After you decide there are responsibilities you should be outsourcing, then comes the difficult task of choosing the right partner for the job. This is where it helps to know how to audit an outsource agency, and here are two key tips for outsourcing marketing services:
Learn to read key performance indicator reports (KPI), and;
Know how to assess a return on investment (ROI) report
The good firms who provide outsourcing solutions will have KPI and ROI reports for the services they provide, but it's up to you to know how to read, analyze, and compare them. Consider whether or not they can accomplish their tasks with efficiency, and more importantly if they're worthy of performing outsource work for your clients.
Find a Partner with In-Depth Knowledge of Your Industries
When your clients choose your agency as their marketing partner, they expect you to have a certain level of expertise in their industries and unique businesses. Without that knowledge, you wouldn't be able to provide the best service, the most up-to-date techniques, or the customized solutions you offer. Similarly, you should only outsource to partners who have comparable knowledge of the industries you serve. For example, if you primarily work with customers in the restaurant industry and need to outsource a graphic artist, then you'd be wise to look for a person with experience making food look delicious, inviting, and irresistible.
Don't Be Afraid to Check References
Before making a final decision about an outsourcing partner, the last step is to perform your own audit of the company. You can do this by browsing their website, investigating what kind of web presence they have, checking out their social media pages, finding out how knowledgeable they are about pertinent industries, and making sure they are an authoritative voice in their field. One of the best ways to ascertain all of this is by checking references, reading client testimonials, and talking to past customers.
When you want to outsource marketing services, the ideal outsourcing partner will be an industry leader, will have the authoritative knowledge, and will provide you with services that bring you closer to being a full-service marketing agency. In other words, the ideal outsourcing partner is one that increases your appeal to high-profile clients, and who complements the services you already offer. Through the Agency Accelerator Program, WSI has helped agencies access a full network of digital marketing and production services, allowing them to focus their efforts on developing their business. Ultimately, make sure your partner understands your industry and the level of service you want to provide.