Summary: Learn the steps to acquire your E2 visa to move to the USA and start your own business.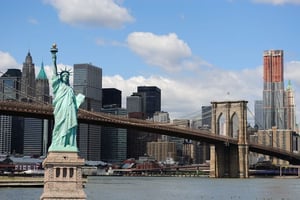 WSI is an Excellent Investment Option for Obtaining Your E2 Visa
Gaining your E2 visa and moving to the United States offers you the ideal opportunity to operate a business in a thriving economy.
In our latest post, we'll explore the E2 visa in detail and explain the value in choosing it as a way to invest in your own WSI franchise.
What is the E2 Visa?
The E2 visa is a type of US investment visa that allows a person to enter the United States and work in the country based on a controlling investment. The visa is active for up to five years, depending on your country of origin, and it can be extended indefinitely, depending on your business and its growth.
As part of the E2 visa, you may travel freely into and out of the United States and can be accompanied by your dependents under the age of 21, as well as your spouse and other relatives.
What You Should Know About the E2 Visa
So, it's clear that the E2 visa offers a great way for business owners to build their company in the United States, but there are other elements you should know about the E2 visa, including that:
you must invest at least $100,000
you must be in full control of invested funds
the investment must be a real enterprise with clear operations
you must be the principal investor or a highly specialized executive
Why WSI Represents the Ideal E2 Visa Investment Opportunity
Many investors are capitalizing on the benefits of the E2 visa and using it to build their own WSI franchise in the United States. We have decades of experience helping investors build their own successful franchises using the WSI name. There are several reasons for using an E2 visa to build your own WSI franchise:
Past Franchisee Success
A clear benefit of choosing a WSI franchise as your E2 investment is that WSI has a proven record of success in helping investors build strong companies. There are already examples of thriving WSI entrepreneurs across the country, and E2 applicants can point to their success when completing their applications.
The Exploding Digital Marketing Industry
The digital marketing industry has grown rapidly in recent years and is forecast to grow even more in the years to come. Using the E2 visa as a way to invest in WSI is a great option for capitalizing on this digital marketing growth. Franchisees can leverage the WSI brand name while creating links across the US business community.
Business Flexibility
Because of the rapid growth of the digital marketing field, franchisees have a great level of flexibility to build their business through WSI. Franchisees are given not only the resources and tools they need to succeed but also the control and flexibility to meet their own business objectives.
Find out if WSI can help you get your E2 Visa
The team at WSI is now helping E2 visa applicants build their own franchises and successfully move to the United States. Find out if we can help you get your E2 visa here or contact us at today at contact@wsifranchise.com.