Ryan Kelly shares his skills, strengths and what it takes to make your digital marketing agency a success. He brings organization, prompt decision making and strategic thinking to his business - and most importantly, a sense of fun to work. In this video interview, he gives us an office walk around and we get the opportunity to meet his team.
Tell me a little about yourself, and where you are located?
I'm in the rolling wine country hills of California. Santa Rosa, in Sonoma County to be exact. I work to play and I play at work.
When did you join WSI as an Internet consultant?
In 2008.
What job/business were you in before you started your WSI business?
I had a career withYellow Pages.
Tell us about anyone who helped influence you into starting your own business?
My Dad. Who I started the business with 🤣
Describe your typical work week?
I'm generally in at 9am or 10am and out by 4:00 pm. 50% working in the office and 50% out of the office, traveling to clients.
What highlights have you had since being with WSI?
Major business growth
Hiring new employees
Multiple Top Gun trips
Inaugural TEDx style talk at WSI Global Convention
2 WMA awards
1 IAC award
2 "Best of the North Bay" awards
WSI Top Contributor award
What are the biggest obstacles that you have faced in running your business and how have you mastered them?
Lead generation - still mastering that! Hiring the right people is what I focus on. Selling the right product and producing one that actually works for our clients is most important.
Do you have any skills or talents that most people don't know about?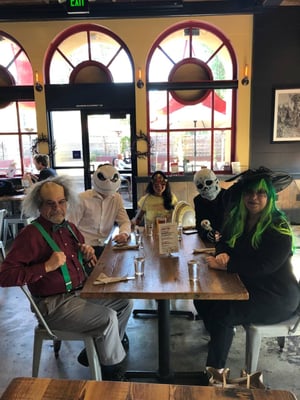 Event planner. I don't promote it, but love to plan big events.
What do you think are the best skills that you bring to your business?
Organization
FUN!
Prompt decision making
Strategic thinking
What goal do you have for yourself that you want to accomplish in the next year?
I really love speaking and traveling. So I will pursue the speaking engagements that include travel opportunities.
Where do you see yourself in 5 years time?
CEO of the company so I can give my Dad a break. Growing my company to 12 employees so that we can deliver any digital solution that our clients need. I'm also looking forward to working 4 days a week and taking Fridays off.
What advice would you give a new WSI Internet Consultant?
Work hard and play hard. Don't try to master everything at once, but rather pick a product and master it. Then another, and another and so on.
What would be your personal motto?
"Chance favors a prepared mind" by Albert Einstein. I'm always prepared.
If we went to happy hour, what would you order?
A double whisky, with a King cube. Oh, and all the happy hour food they have!
If you could be anywhere other than here talking to me - right this minute, where would you be?
I'd be on a warm beach with my wife and kids, playing in and out of the warm ocean water, with charis near a palm tree with shade, with mudslides and lava flows (drinks) and sandwiches in a cooler.