Each month we share an interview with one of our WSI franchise owners as we discuss their WSI experiences. Here we speak to Gunnar Hood from Oklahoma City, where he lives with his wife of 35 years, one of his three grown children (who moved home during lockdown), and an adorable pooch.
Tell me a little about yourself, and where you are located
While I was born in Chicago, my formative high school years took place in Mexico City. That sense of adventure led to spells in Texas, Colorado, and now Oklahoma City.
Why did you want to become an digital marketing consultant and join WSI?
Although it was a conscious decision to leave the corporate world, it came about as a result of not wanting to relocate.
When I transitioned out of the corporate world, I knew I wanted to be an entrepreneur. It didn't take long for WSI to appear on my radar, and the rest, as they say, is history.
What's the biggest value that you get from WSI?
The people who gave of themselves benefitted me to the point where I can now give back. It starts with the network of Consultants who all have some specific expertise on which I can draw.
The support from WSI Corporate in finding partnerships and making education and solutions available to its franchisees.
Although WSI is a franchise, each Consultant can carve out their own niche.
What job/business were you in before you started your WSI business?
I started off in the maritime industry, but soon realized it was not conducive to staying married. Thereafter, I worked in financial services for 25 years.
Tell us about anyone who helped influence you into starting your own business
Working with an outplacement consultant led me to the franchise program. Narrowing the criteria to my preferences - B2B, technology, and strategy - led to WSI which quickly became an exciting option.
One of the companies I worked for at the start of my career grew tremendously thanks to their entrepreneurial spirit and that inspiration always stayed with me.
How long have you been with WSI?
Since 2012, making it nine years.
Describe your typical work week
Mondays start off with client meetings and time in the office tracking projects.
Tuesday through Thursday are spent meeting prospects, speaking engagements, and site meetings.
Fridays are dedicated to project management and used as a catch-up day.
What highlights have you had since being with WSI?
At the Global Convention in Mexico we won an award for showing the top growth (66% YoY) and we won a WMA WebAward for the design of one of our client's website.
Although this type of recognition is great, the kind I like most is when we focus on doing the right thing, and that leads to organic success and growth.
What are the biggest obstacles that you have faced in running your business?
It took time to build a track record by confidently getting in front of people. My on-the-ground sales experience was stale, so I had to learn to demonstrate our value.
What do you think are the best skills that you bring to your business?
Strategy, analytics, and education.
What goals do you have for yourself that you want to accomplish in the next year?
We would like to end this year with 11/12 months in the list of top revenue generators.
Despite the uncertainty COVID-19 brought with it, it has also led to more opportunities by connecting with companies that have become stronger during this period.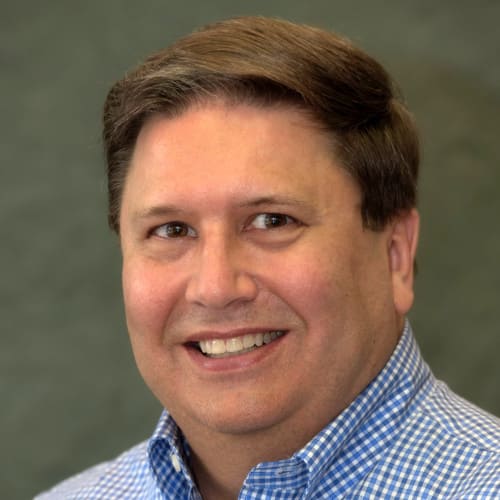 Where do you see yourself in 5 years' time?
Having achieved accidental success which snowballed, I have often got the answer to this question wrong!
Instead, I have a vision to build a business that is successful and transferable so that our customers are well taken care of when I eventually retire. Getting the right people onboard will be key to achieving this goal.
What advice would you give a new WSI Consultant?
Be a sponge. Absorb as much as you can and leverage the tools and support by tapping into the network.
What is your personal motto?
Borrowed from Sandler Training, "Make it about them."
If we went to happy hour, what would you order?
A nice cold lager.
If you could be anywhere other than here talking to me - right this minute - where would you be?
The pre-COVID plan was to be working remotely in Norway in September. Instead we did a tour of Colorado and Utah.
Whenever possible, my wife and I love adventure travel and photography.