Summary: Are you looking for a better work-life balance? Inside this guide, you will discover how WSI franchisee, Taylor Russell, gets it right!
WSI digital marketing franchisee, Taylor Russell, was recently interviewed for the Canadian Franchise Association's podcast show, Franchise Canada Chats. In the episode, Taylor sat down with guest host Angela Coté (CFE), the CEO and "Boss Lady" of Angela Coté Inc. to discuss how franchisees can search for franchise opportunities that offer them the flexibility to create a healthy work-life balance as a business.
ICYMI, click here to listen to the full podcast interview.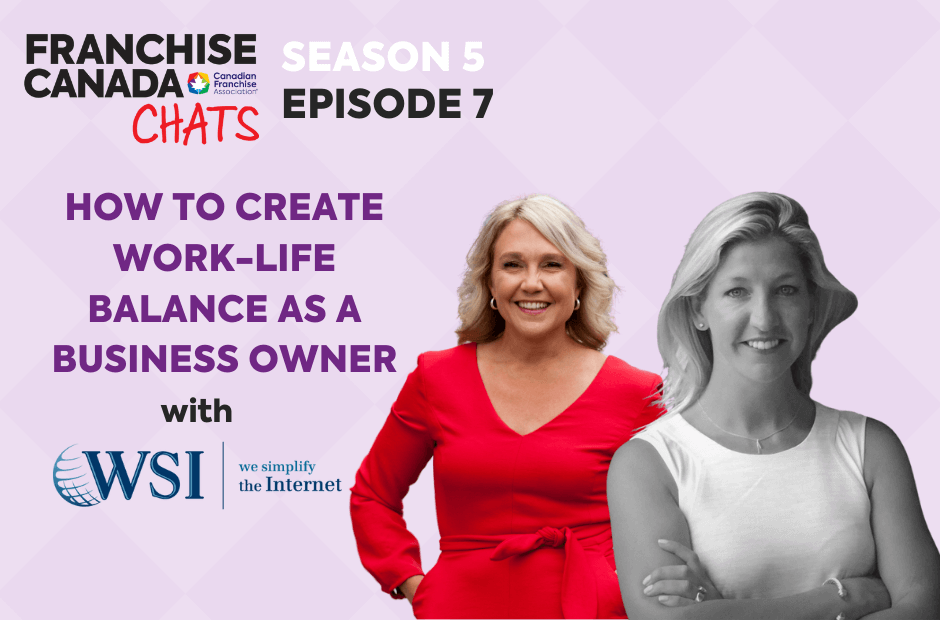 How to Choose a Franchise That Suits Your Goals, Passions, and Lifestyle
One of the advantages of buying a franchise is how much more quickly it allows you to ramp up your business than building up your own business from scratch. This is because you are buying into an established company that has already gone through the "start-up." phase. But just like a marriage, the relationship you have with the franchisor should be nurturing, supportive, and beneficial to your well-being and success.
A lot of introspection and due diligence is needed to choose a franchise opportunity that is a good fit for you. At the onset of your search, you need to truly understand what you are looking for in a franchise business:
Assess your priorities, e.g., B2B or B2C, flexibility, ability to travel and work from abroad, repeat clients.
Determine how much leeway you want about how to run your business.
Reflect on the benefits and challenges you may have experienced as a professional or solopreneur, e.g., loneliness, ultimately being run by your business instead of the other way around.
Then chat to as many franchisees as you can to understand what benefits and drawbacks they have encountered. Then compare these to your likes and dislikes:
How accommodating is the franchisor?
What is the culture of the organization?
How open are they to feedback? Do their franchisees feel valued and heard?
Is the franchise style flexible or not?
What type of onboarding and ongoing support and training exists?
Use a process of elimination to find a suitable match.
Taylor's top reasons for selecting WSI include:
Working with tangible results.
Their guidance, mentorship, and resources.
The culture of collaboration that exists with the franchisor and fellow franchisees – and how WSI leverages the collective wisdom of the network of people running the same type of business.
Partnering opportunities to provide the best services for your clients.
Multi-national and multi-lingual network.
Empowerment to run her business.
How to Create an Effective Work-Life Balance
Even before COVID-19 and owning her WSI digital marketing agency, Taylor worked remotely, so she knows what it takes to ensure she is maintaining a work-life balance as a franchisee. Some of the key things she spoke about were"
Have a separate physical space for work-related tasks.


Time block by allocating different days of the week to different aspects of your business (finance, sales, marketing, clients). This guarantees that work is done regularly on all elements of your business.


Hire help. As a franchisee, your job is to grow the business, not work in it. After the initial period of working in your business to plan how you want it run and putting standard processes and reporting documents in place, you need to be able to delegate and let go. This gives you the freedom to step back and focus on growing your client base.


Outsourcing the things you hate doing frees you up to focus on what you are good at and love for exponential gain! Next, eliminate, simplify, standardize, and automate what your time is being focused on.


Socialize your plans for increased confidence and as a way to leverage the support of your extended "sales team".
For more information about the work-life balance enjoyed by franchisees of WSI - the digital marketing franchise that works with businesses across all industries to help them connect with their customers online – get in touch with us today.