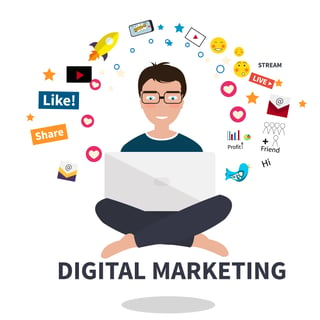 Millennials who choose a career as Digital Marketers have endless advantages, as utilizing social media and modern technology is an essential, and natural, choice. As the world of digital marketing progresses, the industry requires these young professionals who are highly flexible, learn quickly, and can keep up with the high demands and expectations of clients. As compared to marketers who developed their skills before unlimited internet access, millennials have the mindset to grow with the technology and develop their skill sets to match digital marketing trends.

So, what exactly makes millennials innately great digital marketers?
Millennials Know Technology
Many millennials were the age of 5, or younger when the internet became commonplace in most households in developed countries. With endless access to a growing amount of information online, and rapidly developing technology, millennials were able to learn how to most efficiently use computer technology and the internet. Along with time spent on computers at home, schools also realized the importance of teaching skills such as typing and using search engines to the best of their ability.
Once these basic skills were developed, millennials were free to learn as much as possible about the internet, and whatever subjects were of most interest to them.
Millennials Utilize Social Media Daily
Social media has connected billions of people worldwide. With endless algorithms on getting noticed, millennials have taken pride in growing their online social network. Whether they're sharing beautifully curated feeds on Instagram, or have developed a knack for creating quick, smart, and witty Twitter content, millennials have come to use social media as a main form of personal expression and communication with the outside world.
Franchising as a Career
With such vast experience, both online and on social media, becoming the owner of a digital marketing franchise should be of interest to millennials. The ability to create your own hours, cultivate a meaningful network of professional relationships, and build your business the way you best deem fit allows you to be your own boss. Young entrepreneurs are lucky to enter the market when they are, since they have the ability to learn the high-quality digital marketing skills that will differentiate them from the soon-to-be saturated market of digital marketing professionals.
By choosing to franchise as a career with WSI, the world's largest network of Digital Marketing Consultants, young franchisees will gain access to a global network of professional connections, working to help you develop your business and gain big name clients. Visit WSI online for more information on becoming your own boss as a franchise owner today.