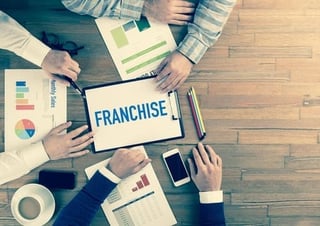 Undertaking a venture to purchase and operate your own franchise is exciting for any entrepreneur, but it's essential that the right person finds a match with the right type of franchise. There are three main types of franchises, and each one operates in a different way, has different demands, and requires a unique skill set. So before you commit to a certain type of business, here's everything you need to know about the different franchise types.
Product Distribution Franchise
With this type of franchise, the franchisee is a distributor of goods that are created and controlled by a manufacturer. The manufacturer owns all patents, trademarks, and trade names that belong to the brand, and the franchisee pays for the right to sell that product and use the names and trademarks. Types of businesses and industries that often use this model include:
Automotive
Food and beverage
Computers
Automobile parts and accessories
The major skill required for franchisees using this model is the ability to follow instructions and the willingness to adhere to a system, because the manufacturers in this type of relationship control how, when, and where their products are distributed and sold.
Manufacturing Franchise
A manufacturing franchise is the other side of the coin from a product distribution franchise because the franchisee buys the rights to manufacture a product. One of the most well-known companies that operate using this system is Coca-Cola, which sells the rights to the name, trademark, and proprietary syrup to franchisees who then produce and bottle the final product.
Based on the organization of this type of franchise relationship, the people who are best-suited to this type of venture are ones who can follow a proven system, who are dedicated and hard-working, and who don't mind following the rules.
Business Format Franchise
The majority of franchises operating in North America are business format franchises, and this means that the franchisor develops the business, the name, and all associated trademarks, and then sells the complete business system to individual franchisees, along with all applicable processes. Common types of businesses that operate like this include fast food restaurants, coffee shops, and even oil change shops.
The benefit of this type of franchise is that the customer gets a familiar and consistent product or service across the board, regardless of the franchise location visited. Some of the key skills required to operate a business format franchise include interpersonal, customer service, communication, and leadership skills, as well as a passion for and dedication to the brand.
Digital Marketing Franchising: A Revolutionary Approach
Digital franchising is different from the other three types of franchising in many regards, but it's most closely related to a business format franchise. When you start your own WSI franchise, for instance, you get to use the trusted and established WSI name, get access to the global support network, and get to use the processes that WSI has created and perfected over the last 20 years.
However, unlike the other types of franchises, digital franchising affords franchisees far more freedom and creativity, has a much lower start-up cost and overhead costs, and offers you plenty of opportunities to try your skills in a new and exciting setting. Some of the most important skills involved in running a digital marketing franchise include communication, analytical, and leadership skills, paired with ambition, an entrepreneurial spirit, and a drive to succeed.
Franchise opportunities are often appealing to entrepreneurs because there's a proven system that you can adopt and make your own, but some types of franchises offer more freedom and flexibility in this area than others. For further information about the type of success you can expect with a digital marketing franchise, download the WSI Franchise Report today.