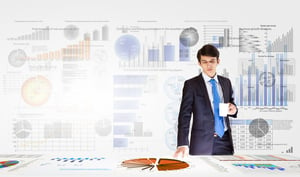 Digital marketing is a fun, exciting, evolving, and challenging career that certainly isn't for everyone. But there are many things about this field that make it an ideal fit for Millennials, especially because it affords younger workers an opportunity to explore their entrepreneurial spirits while also maintaining a stable job. Moreover, digital marketing is only going to keep growing in the coming years, and it's something that you can do from anywhere in the world.
Digital Marketing Career: Outlook Good (So Sayeth the Magic 8-Ball)
Career growth in digital marketing is about as close to a certainty as you can get in this world. Digital marketing has been around for just about as long as the internet, and every year it picks up steam. As a prospective digital marketer, this means you can look forward to years of stability in a world of uncertainty, job security in a world of scarcity, and a future-proof career in a world of doubt. While most people will be worrying whether the job they're doing today will still be there tomorrow, you'll be calm with the knowledge that you've chosen a reliable career path that manages to offer both stability and excitement.
Securing Employment in an Ever-Growing Industry
Another great thing about working in digital marketing is that the industry is always evolving as new technologies, consumer behaviors, and client demands change over time, and this means you'll always be kept on your toes, and won't have an opportunity to get bored. Moreover, the demand for quality digital marketers will always exceed the supply, and not only does this mean you'll have plenty of work to keep you busy, but it also means that you'll have a vast pool of clients to work with, and no two days will ever be the same. Furthermore, as technology and digital practices continue to evolve, the digital marketing universe will continue to change too.
A Global Opportunity You Can Take Advantage of Anywhere
You may be wondering why digital is marketing a good career for a younger generation. And the answer, while multifaceted, is quite simple: it's a perfect match between career opportunity and professional desire. Unlike previous generations, Millennials aren't as worried about how much money they make and are more concerned with things like work-life balance, flexibility and freedom, and chances to explore new opportunities.
Digital marketing can be done from anywhere in the world and for clients all over the globe—WSI, for instance, has digital marketing consultants in over 80 countries worldwide—and you can do it all from the comfort of your own home. As a digital marketing consultant, you can also choose your hours, take time off when you need to, work with any clients you like, take on any projects you want, and move around as you see fit. Because as long as you have a computer and Internet, you can work from wherever.
On top of being a flexible, creative, and ever-changing job, digital marketing also provides endless opportunities for you to hone your skills, develop new ones, and expand your knowledge base in a variety of fields. Plus, as a WSI digital marketing consultant, you'll also get the benefit of our years of experience in the field and partnerships with industry leaders like Google and Bing, making digital marketing one of the best career choices out there for driven and talented Millennials.
If a digital marketing career sounds like something you want to consider, take a virtual tour of what we have to offer you.