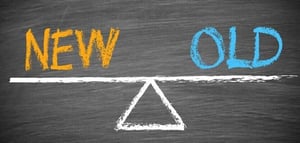 Carving out a spot for yourself among the entrepreneurs of today can be a challenging task that requires thought and research at every step. Even something as seemingly simple as choosing between a traditional versus a new age business can demand attention and resources, and this can make it difficult to choose the right type of business for your career path. The good news, however, is that both traditional and new age businesses can offer opportunities for success, as long as you modernize traditional business ideas, keep some traditional elements in any new age business, and remember that marketing is vital to the success of any venture.
Traditional Business Ideas Don't Exclude Modern Practices
When brainstorming new business ideas for 2018, it can be tempting to think in terms of traditional versus modern or new age business ideas. But the truth is that even traditional business ideas can be brought into the modern age with a few tweaks and updates, so there's no reason to think that a traditional business won't be successful in today's world. For instance, marketing and advertising are very traditional career paths in that they've been around for so long, but these practices can be modernized with new digital marketing strategies that embrace current technologies and the internet.
Any Business Needs the Right Fundamentals to Succeed
Whether you opt for a traditional or new age business, success depends not on the type of business per se, but rather the value, mission, and foundation upon which the business is built. You can have a unique business idea with a great deal of potential, but the company will only thrive if you can also offer high-quality service, a great customer experience, the right price, and a strong brand.
Marketing Is Essential to All Business Growth, Modern and Traditional Alike
Similarly, if you want a business to succeed in today's world, then marketing is a crucial piece of the puzzle. There are over 7.5 billion people on the planet right now, and there are millions of businesses out there offering hundreds of thousands of different products and services. No matter how great a business idea you have, if you want to get your voice heard over all the other noise, then you must have an effective and aggressive marketing strategy in place to reach your target audience. This is why a digital marketing franchise is one of the best small business ideas for millennials, because the number of people and the number of businesses out there will only continue to grow, and this means more people needing help from digital marketing experts to get their voices heard.
Choosing between traditional and new age businesses isn't necessarily a black and white choice because a traditional business will need to be modernized to succeed in today's digital world, just as a new age business will still require the same fundamental elements as a traditional business. But if you're looking for smart business ideas with low investment, then look no further than a digital marketing career. Digital marketing offers the best of both traditional and new age businesses because it's a modernized version of one of the world's oldest selling techniques. Beyond that, digital marketing will only continue to grow as more people come along, more businesses are created, and more technologies are developed, and there's no better time than now to get in on the forefront of this ever-evolving industry.
We invite you to click below and take a look at how a digital marketing franchise can transform your professional life.