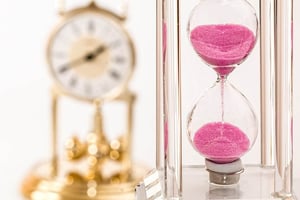 Are you a busy working mom who never feels like you have time for yourself? You're not alone. According to the US Department of Labor, about 70% of women with children were either working or looking for work. If you're one of the many parents struggling to stay on top of it all, read on for time management tips for busy parents.
Get Clear on Boundaries
This is one of the most important tips for working moms to save time. Learning to say "no" is difficult for many people and is often more the case for women than men. And we are already focused on "doing it all," we become frazzled and stressed, which leaves us less capable of asserting our boundaries. This can become a vicious cycle.
So, it's important to down a little in order to understand what your boundaries are, and where you can share your workload so that you can then ask for what you need in a clear, concise and calm way.
Mornings Matter Most
You probably already know that managing your time during busy weekdays really centers around your morning routine – and it's probably something that you can't get your kids to stick to.
If you're a working mom with a daily schedule yet you still find yourself frazzled in the mornings, it might be time to adjust it. This may look like getting up a little earlier or even asking your employer if you can have a later start time. If you've got a lot of driving and chores to do each morning, the important thing is to leave a wider berth than you think you need in order to ensure everything is done.
You will also want to make a point of getting everything ready the night before, from clothes to lunches to bathing. If your stuff is ready to go out the door the night before, then you can focus on the unpredictable nature of the kids.
Know Where to Multitask
You won't know how to save time until you are able to step back and honestly assess how your days and weeks are, but you can't do this if you're multitasking. So generally, it's best to avoid multitasking, especially (and this may be obvious) if you're doing something important like driving or spending quality time with the kids.
On the flipside, there are some activities and routines that can go well together: a quick chat with a friend can be had while making lunch, creating your weekly schedule can be done during crafting or TV time, or planning your weekly shopping at lunch are all examples of effective ways to multitask. The trick is not to try to do it all the time.
Let it Go
Every working parent struggles to stay organized while juggling work and family, and things are bound to change from week to week and year to year. Sometimes you have to accept that things won't get done.
So, the next time you forget to buy diapers or discover that your partner didn't clean the bathroom as they'd promised, try a more casual or even humorous approach, rather than getting mad…a little laughter can go a long way.
These time management tips for new moms and working parents will help save you considerable stress and anguish. Managing time during busy work weeks is essential for keeping yourself sane and maintaining a happy and healthy household.
Like what you read? Visit our blog for more career and professional tips today!