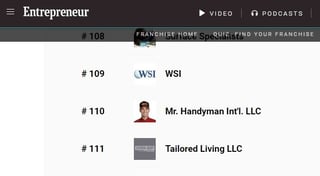 WSI, the world's largest network of Digital Marketing Consultants is excited to be ranked in Entrepreneur magazine's 2017 Top Franchises for Veterans list. This ranking recognizes the 150 franchisors offering incentives to veterans who join their systems. WSI was ranked #109.
Commented Mark Dobson, WSI's Co-Founder & CEO, "Over our more than two decades in the franchise industry, we have made efforts to empower several veterans' entrepreneurial dreams. At WSI, we recognize the skill sets of discipline and self-motivation that this special group of people possess, and we want to help them build successful businesses by leveraging these skills. We offer our Consultants the support of an extensive network, collaborative opportunities, coaching programs, and online training and educational courses. We are happy to be recognized for our efforts by Entrepreneur magazine, and we assure the veteran community of our continued support for their future."
"Veterans often make ideal franchisees, thanks to their strong leadership skills and abilities to work inside complex systems," says Jason Feifer, editor in chief of Entrepreneur. "We're proud to highlight the franchisors that best connect with and support veterans, as they pursue the opportunity to own their own business."
To determine the Top Franchises for Veterans ranking, Entrepreneur analyzed each company's veteran incentive, the number of veteran-owned units, how veteran franchisees are attracted to and support by each company, and how each company scored in the 2017 Franchise 500 ranking. WSI's position on the ranking is a testament to the company's efforts to support veterans in their pursuit of the American Dream.
To view WSI in the full listing, visit entrepreneur.com/franchises/topfranchiseveterans. The list can also be seen in the November issue of Entrepreneur, available now on newsstands.
About WSI – we simplify the Internet:

WSI is the world's largest network of Digital Marketing Consultants with its head office in Toronto, Canada. WSI Digital Marketing Consultants have helped thousands of small and medium-sized businesses realize their online marketing potential. By using innovative Internet technologies and advanced digital marketing strategies, businesses can have a WSI Digital Marketing System tailored to their individual needs to elevate their Internet presence and profitability to new levels. In 2017, WSI received 7 Awards at the Annual WebAwards organized by the Web Marketing Association (WMA), bringing their total WMA Award tally to 75. With the support and cooperation of its customers, Consultant network, employees, suppliers, and charitable organizations, WSI as a collective organization is dedicated to helping make child poverty history through its global outreach program www.makechildpovertyhistory.org.
For more information about WSI's business opportunities, please visit our website at www.wsifranchise.com/. For career advice, business tips, and digital marketing insights visit our blog at www.wsifranchise.com/blog. Or you can connect with us socially at www.twitter.com/wsifranchise, www.facebook.com/WSIFranchise/, http://www.linkedin.com/company/wsi, http://youtube.com/wsiworld.