Ask anyone what their first day at WSI was like and this is the response you are likely to get...
The warm welcome from the whole team made me feel as part of the team from the beginning. I have to call out Luana and Raj - they are an amazing training team. Everything worked out as planned during first day - and the rest of the week. Raj is a great trainer. I really enjoyed his style - very knowledgeable but always ready for some fun as well.
It's our pleasure to share our latest interview with Raj Narayanan, one of WSI Home Office's most experienced trainers and coaches.
How would you describe yourself?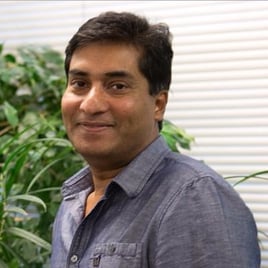 An experienced, hands-on digital marketing strategist with over eighteen years of experience, standing at the intersection of where human nature, technology and digital media meet in a hyper-digital world. And always wondering where the future is heading to!
What were you like in high school?
The mischief-maker. I snuck around to watch movies and go to parties. I loved making jokes and getting the class to laugh. I also did lots of extracurricular activities.
Rules were never my thing anyway. Rebel on :)
How long have you been with WSI?
8 years approximately.
What did you do before life at WSI?
I was working in Dubai as a Marketing Director for a Fortune 500 company, looking after their business operations in Middle East, Asia Pacific and Europe.
Why did you Join WSI?
WSI was the right fit because of the following reasons:
WSI has a global presence and my previous international experience in digital marketing and of working in many countries and markets gives me the global exposure that results in appreciation and awareness of other markets, cultures and values.
My experience and skill sets helps me understand the global market and the challenges they face and to adapt to the fast changing ways to do business in the global environment. This helps me to do my job better!
WSI is also a great place to work, as it has an open culture that allows employees at every level to share their ideas, suggestions and concerns to management. Above all, we are a group of highly motivated and talented people, which creates a working environment that always pushes us to the next step, keeps us focused and wanting to learn more.
What was your journey like to get where you are today?
A journey filled with hard work, lessons, heartaches, joys, celebrations and special moments!
Looking back at so many years with WSI - what are some of the highlights you remember most and why?
The one highlight I remember most is that WSI gives opportunity for newcomers to Canada and leverages the motivation, attitude, skills and experience of a diverse group of people to build an internationally-trained workforce. No wonder WSI is a fun place to work at - fast-growing, team-oriented group of rising and experienced professionals just means we all benefit from the experience that newcomers bring. That includes things like international connections and an ability to communicate with people from other cultures, economies, marketplaces and countries.
What has been your biggest accomplishment at WSI?
Trained and coached more than 500 consultants and helped them to make a difference in their lives!
Running the Quick start program successfully for last 8 years as an accountability partner to keep the consultants accountable for their business success.
The big payoff for me as a coach is the opportunity to share wisdom with the consultants with an open heart and to be a part of their success story. The happiness and the satisfaction which I get in return is my biggest accomplishment and key motivational factor to do better.
Tell me how you have approached the change that has happened while at WSI?
Change is inevitable and you have to have the wisdom to recognize the ongoing change and accept the new reality. WSI management works hard to share their vision with the rest of the team, and share the benefits that will result out of the change. That helps alleviate the inevitable fear, anxiety, that comes during transition, thereby making it easier for us to accept the change.
Describe your typical work week?
There just isn't a typical day or a week. I may have scheduled meetings in my calendar, which looks very regular, but there is no predicting what may emerge in a day.
During a typical work week, one of my biggest tasks is checking and assessing how the week looks as I have a very busy schedule and priorities keep changing by the hour as I interact with consultants directly and they connect with me regularly for their business requirements. My mornings are mainly to run the QSP sessions, coaching calls and regular strategy sessions with consultants. Monitoring their business activity and KPIs is also key aspect of my responsibility.
Since I am also involved in training for consultants, I spend time reading articles and influencer posts, industry expert, forward-thinking thought leadership topics and understanding what's new in the digital marketing and social media world as the industry is very dynamic and fast-paced with so much dynamic fluctuation and constantly evolving.
In-between calls, I am answering emails, attending internal meetings, following up with consultants, doing research and preparing for my next call, working on internal projects assigned, admin work and replying to consultant's business queries.
What is your favorite quote?
Simon Sinek: "People don't buy what you do; they buy why you do it."
Do you have any skills or talents that most people do not know about?
Yes, I like to paint and take photographs.
What type of holidays do you like to take?
Exploring wildlife and enjoying nature. I am the kind of person who likes travelling on my own and explore the places, beauty, history, and culture of an area without strict itineraries or tour guides.
What do you like doing in your spare time?
I like reading, photography, watching documentaries, catching up with friends. I started to focus on my fitness, so I hit the gym regularly, do meditation and yoga daily.
Could you tell us about an average day in your life?
A typical morning begins around 6 AM, with a 30-minute breathing exercise, yoga and meditation to prime my mind and body, and to prepare myself for the day ahead. I need to do it to be able to summon a great deal of energy—both mental and physical—to be able to maintain the pace and to be effective all through the day.
I am quite fortunate to have a one-hour commute to work and spend this time listening to music or reading a topic relevant to my life or work.
My day in the office is different depending on the schedule for the day.
Running my QSP sessions, coaching calls, strategy sessions and internal meetings along with admin work.
I stay productive by blocking out my calendar. I ensure at least a block of uninterrupted time every day. During this time, I close my emails and focus on the project on hand. Carving an intentional space without distraction helps me focus and go deep into the project am working on.
In the evening I go to the gym, and after that am catching up on the pending work as I carry back work home.
What do you think are the best skills that you bring to WSI?
My vast experience and knowledge gained by working in this industry for a long period definitely helps.
My unique attribute is passion combined with enthusiasm. Without a passion for what you are doing, it is not possible to ideally perform your job to get the best results and to accomplish the mission.
How would someone get your special attention?
Acknowledgement.
Have you read any good books lately?
Homodeus & Sapiens by Yuval Noah Harari.
The Industries of the Future by Alec Ross.
On a scale of one to 10, how weird are you?
Sometimes it is our weirdness and vulnerability that makes us bond as human beings. It's our peculiarities and our rough edges that make us human and allow us to connect, not fitting some unrealistic social standard. So better to be bit weird at times. So I would say a 7 :)
How would you describe yourself in one word?
Adaptable.
What goal do you have for yourself that you want to accomplish in the next year?
Personal Goal: to stay fit and learn to fly
Professional goal: to do better and to contribute as much value to my consultants and to the team.
Where do you see yourself in 5 years' time?
In the long term, I would like to develop myself to become the best in what I do, learning as much as I can and to best serve the needs of the department and the company.
What do you hope to achieve in your next position?
Everything that position offers ;)
I'd love a position where I can use my skills to make an impact in the business world that I can see with my own eyes!
How has technology changed the way you work?
Technology has changed business communication. It has changed the way we communicate at the workplace. The arrival of web conferencing, project management platforms, corporate social networking sites, and AI chat apps has brought communication to a new level.
What would be your personal motto?
"Actually, I can."
If you worked in a restaurant, what role would you want?
Server/waiter job because I like working with people, making them happy, and getting $$$ tips for excellent service!
If we went to happy hour, what would you order?
Single malt Scotch whisky from Islay and Skye
If you could be anywhere other than here talking to me - right this minute, where would you be?
Exploring a rainforest ;)